Welcome to Greenstar Wholesale Holding Ltd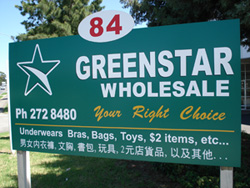 Greenstar Wholesale Holding Ltd, located in 84 Harris Road, East Tamaki, Auckland, is a large well-known wholesale company offering over 5000 products varieties within 2500m2 warehouse storage.



Honesty is the foundation of our business; Our philosophy is to offer the most comprehensive and refined selection of products and services, this has earned us excellent customer loyalty and the highest reputation in the wholesale industry throughout New Zealand.
---
Greenstar's wide range of products cover you head to toes.
We are specialise in
Men's underwear - all ages and styles
Ladie's underwear (bras and pants) - all ages and styles
Socks -all ages and styles
Toys, Gifts, Household Items including Plasticware, Artificial flower, Tableclothes, Suitcases, Tricycles, Tents, Shoes,Umbrellas and a large-scale supply of $2 items.
Welcome to Greenstar where satisfication is always guaranteed!